The Australian government has finally revealed the emissions reduction target it is considering taking to December's United Nations climate talks in Paris, committing to a "pathetic" 26 to 28 per cent reduction on 2005 levels by 2030.
It is not only far below the 40-60 per cent on 2000 levels recommended by its own Climate Change Authority, but totally inadequate to meet its bipartisan goal of doing its bit to holding warming below  2DegC. If other countries took the same approach, the world would face a disastrous 3-4DegC of warming.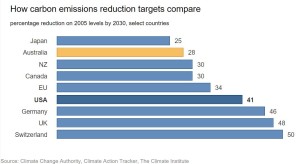 As such, Australia faces a hard time explaining its target – described as recalcitrant, "an exercise in duplicity", and more about political science than science – to the international community, as it has essentially failed a key test of climate credibility.
Australia has bipartisan support to limit average global warming to less than 2DegC, yet when it comes to putting its policy where its mouth is, it hides behind its coal industry Weekend at Bernie's style, and falls back on dodgy economic modeling and creative accounting to cook its books, instead of embracing the hard yakka of the clean energy transition.
Funnily enough, Australia actually adopted a 20 per cent reduction on 1988 levels by 2005 target back in 1990, while today's 26-28 per cent target (19 percent on 2000 levels) is also lower than the existing commitment of a 5 to 25 per cent cut on 2000 levels by 2020. Why? Because this is a short-term political decision, not a policy platform to address looming challenges and our future safety and prosperity.
"[T]his government doesn't make its big decisions based on science, economics, markets, or any value other than politics. So let's set aside the pretence that this is really about climate change. This is not about an open minded examination of energy markets. Like all of this government's big decisions, it's about ideology and politics." – Journalist Peter Hartcher
Australia's foot-dragging has already prompted a warning from France, and as it joins Canada, New Zealand and Russia's axis-of-inaction at the bottom of the barrel it is becoming clearer just how clueless the Abbott government is regarding the economic opportunities of climate action.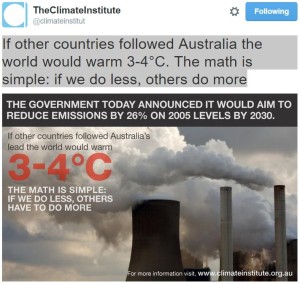 Abbott openly admits that his government's policies are aimed at protecting a dying coal industry, and argues that stronger pollution reductions could 'detract from economic prosperity' despite its own figures showing essentially no difference in cost for a stronger emissions cuts.
Climate action is not free, but it is far less costly than inaction ($200bn in coastal infrastructure alone is at risk from sea level rise), and all credible economic analyses to date show Australia can achieve significant pollution reductions while retaining economic growth.
"No modelling exercise ever conducted has shown that a carbon price will shrink the economy, reduce wages or lead to lower levels of employment. None. What some modelling exercises do show is that if we introduce a carbon tax, GDP, employment and wages might grow slightly slower than they otherwise would." – Chief economist at the Australia Institute, Richard Denniss
Per capita, Australians are among, if not the, wealthiest people on earth, and also the worst polluters. This creates huge opportunity to make the needed changes without adverse impacts.
"If you said to everyone: we've got a climate task to achieve, let's actually convert this economy to a low-carbon economy as quickly as possible, let's invest and build renewables across the country, let's retrofit buildings to be clean buildings, let's get on with high speed rail, let's move to electric vehicles and more public transport – imagine the excitement you would get. I mean this is the equivalent task that Kennedy set the nation when he said: we're going to be on the moon in a decade. If we set that kind of excitement, imagine how many young Australians would see a big future in a different headspace and different technology space, different growth areas." – Former Greens leader Christine Milne
Indeed, the greatest threat to Australia's future prosperity is the Abbott Government remaining wedded to "brown fat underbelly" industries like coal, discouraging thousands of jobs and billions in investment by relentlessly attacking renewables, and unfairly forcing taxpayers to pay for polluters' emissions, even as they increase them.  
Prophetically, Former PM Paul Keating spelled all of this out and laid waste to Abbott's arguments in 2013: