Australia's complicated and unhealthy relationship with coal is again in the spotlight, with a coal plant in Queensland reopening this month.
Despite being retired and placed in cold storage, Tarong power station has been put into action once again, as a result of increasing gas prices. Companies like Stanwell favour the switch from gas to coal as they can make more money selling gas for export rather than burning it to generate electricity, giving coal utilities a reprieve from their increasingly bleak outlook.
Australia's electricity sector is ageing and inefficient, and the explosive growth of renewables is increasingly eating its lunch, making it difficult – nigh impossible for many utilities to turn a profit. Site workers at Tarong are 'hoping' to be working on the plant for the last time – an indication that even workers at the plants recognise end of life for the coal-fired plants is near.
In this light, re-firing Tarong is in no way a signal of a coal renaissance, but rather a temporary falling back on an outdated asset for a short term economic gain. It is abundantly clear that coal can no longer compete with renewables economically, and as the latest protests at Maules Creek, New South Wales, against Whitehaven coal show – it has no social license either.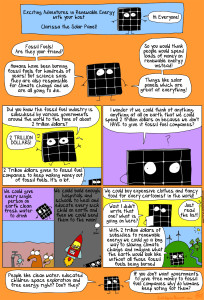 Governments have been slow to recognise this. Despite a recent mine blast, and ongoing community concern, authorities have given the go ahead for Whitehaven's controversial project to continue, but the long-term viability of coal expansion in Australia is decaying so fast investors are abandoning projects like proverbial rats.
Tony Abbott may want "coal carriers steaming the seas to our north", but as a court decision in Colorado early this month shows, as the true cost of coal is more broadly recognised its future prospects inevitably fade.
"I really feel Australia's starting to actually fight the future and it seems like a mistake to me for a country with such a wealth of natural renewable energy resources. You look at the potential of wind and solar and tidal resources there – it's really unmatched in the world, and so it seems to me Australia really could be a leader internationally if the country set itself on that path." California Energy Commissioner, David Hochschild.
The economic viability of both coal and gas are heavily dependent on the international market. Keeping Australia's future prosperity linked to the whims of international fossil fuel prices not only keeps support for climate-damaging industries alive, but risks leaving Australia with a "brown fat underbelly", marginalising its economic future.
Renewables are not only eating utilities' lunches – they will soon be having their dinners and breakfasts too.