The Australian government took its strategy of fighting the future to a whole new level this week, with ministers lining up to attack the ANU's decision to abandon many of its fossil fuel investments, and Prime Minister Tony Abbott taking the coal industry's PR line to claim that coal is "good for humanity" and has a "bright future" despite overwhelming evidence to the contrary.
Putting aside the absurdity like Treasurer Joe Hockey, Education Minister Chris Pine and others attacking a public institution for choosing to invest according to its ethics (that's the free market at work fellas), the troubling nature of the thinly veiled rhetoric around coal should be evident to all.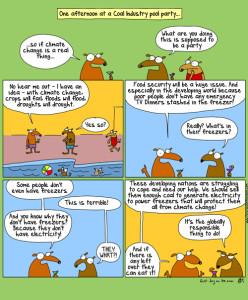 We know that we cannot burn the majority of our fossil fuel reserves, the international community is preparing for a low carbon future, and it costs more to mine and ship Australian coal than it can be sold for.
"The thermal coal export industry has entered structural decline. This is clearly not cyclical – coal company share price declines of 50-90% over the last 3-4 years show the global equity market is factoring in structural decline as an increasingly central scenario. [T]he Galilee Basin in Queensland is a 'stranded asset' in the making." Director of Energy Finance Studies, Australasia, for the Institute for Energy Economics and Financial Analysis, Tim Buckley.
Couple this with China imposing a new 6 per cent coal import tariff, its steel industry being close to peak production, and forecasters saying the decline in prices will continue as China moves away from imported coal; it's clear to see why the Abbott government's vocal protection and support for coal has been dubbed a "suicide strategy".
Visionary leadership, thy name is @TonyAbbottMHR! http://t.co/1X7gKfGG9e http://t.co/bbReQsSkp0 @market_forces #coal pic.twitter.com/kpjmSjHEM6

— Greg McNevin (@gmcnevin) October 13, 2014
The notion that "coal is good for humanity" ignores not only its severe impact on health, the environment and global warming, it is based on the false idea that it is the cheapest form of energy. Burning Australian coal will severely increase the cost of electricity for poor Indian consumers; while in the EU onshore wind is cheaper than coal, gas or nuclear energy when external factors like air quality, human toxicity and climate change are taken into account.
Prime Minister Abbott has bought into the Coal Industry's PR offensive, but coal is not the answer to energy poverty, and no amount of "sham", misleading PR pushes will change this.