The list of banks refusing to put their names to financing reckless coal expansion projects in Australia grew longer this week, with Wall Street's biggest banks following their UK and German financial peers to rule out rule out funding for a huge planned expansion of the Abbot Point coal port in Queensland.
Three of the five largest investment banks in the world –, Citigroup, and JP Morgan Chase and Goldman Sachs, have written to the Rainforest Action Network confirming they will not invest in coal expansion on the Great Barrier Reef.  Morgan Stanley has confirmed similar, but, according to Indian Coal giant Adani, is still advising the company on selling a stake in the current port.
The news follows Deutsche Bank, Royal Bank of Scotland, HSBC and Barclays publicly ruling out investment in the coal port earlier this year due to long term economic risks as well as pressure from concerned communities and conservation groups.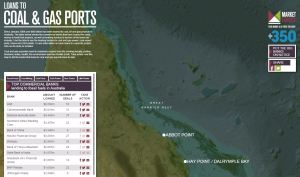 Approved by the Federal Government in December 2013, the port expansion would enable up to 150 million tonnes a year of coal from the proposed Carmichael, Alpha, and Kevin's Corner mines shipped through the UNESCO World Heritage-listed Great Barrier Reef, damaging coral and harming marine life. The expansion of the port and increase in shipping means three million cubic tonnes of sea floor would be dredged and dumped in the marine park, a process which the Great Barrier Reef Marine Park Authority stated would have "… the potential to cause long-term irreversible harm to areas of the Great Barrier Reef Marine Park…" according to internal documents.
The dredging decision was later reversed, but the Australian Academy of Scientists have now warned the Government that its reef protection plan ignores the threat of climate change and will fail without serious cutbacks on carbon emissions. They also advocate a ban on the dumping of dredge spoil into the reef, from the Abbot point and the three other mega coal port expansion projects in the pipeline.
UNESCO's World Heritage Committee is also concerned, noting in an April 2014 report that the Australian Government had until 2015 to ensure the health of the reef or it would be placed on the List of World Heritage in Danger – jeopardising the $6 billion reef tourism industry.
"The science is quite clear that you can't keep the Great Barrier Reef in good condition if you're going to develop huge coal reserves. We are already on our way to 2DegC warming and unless Australia cuts back on carbon dioxide emissions we won't have much of a Great Barrier Reef left. We have stewardship of one of the world's premier reef systems and also stewardship of a huge reserve of fossil fuels – it's a conflict of interest, really." Director of the Australian Research Council Centre of Excellence for Coral Reef Studies, Professor Terry Hughes.
Legal challenges have also been launched against the dredging and dumping by the Mackay Conservation Group, and the India-based NGO Conservation Action Trust.
Both GVK and Adani are Indian conglomerates, and neither have operated a coal mine in Australia before. Adani also has "a record of environmental destruction and non-compliance with regulations", and currently faces multimillion-dollar fines in Mundra, India, after a damning assessment by a government-appointed panel found "incontrovertible evidence" that the company violated environmental clearances and bypassed approval procedures, resulting in large-scale mangrove destruction, groundwater contamination, river blockages and fly-ash pollution.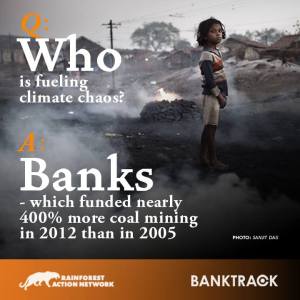 This does not bode well for its part in the massive expansion of Australian coal mining and export, which is happening in a dry area that both farmers and the local environment depend on groundwater.
The mines will have large – and permanent – impacts on local water tables, and on the Great Artesian Basin. Adani has, for example, applied for a water licence to extract up to12.5 gigalitres per year for use at the Carmichael mine. With the other proposed mines, this would mean four times the volume of water in Sydney Harbour being taken from the basin.
Aside from water impacts, the mines also represent a heavy burden to a world trying to limit carbon emissions and avoid the internationally agreed red line of a 2DegC increase in global temperatures. When the coal they produce is burned the emissions will be similar to that of Poland or Spain's entire economies, increasing global warming and further acidifying the oceans – both of which are already having severe impacts on coral reef ecosystems.
Climate change and the risk of stranded fossil fuel assets in a world moving to curtail carbon pollution is becoming an increasingly potent factor in investment decisions, and the list of banks willing to finance dirty projects such as Abbot Point is shrinking fast. For Adani and GVK, this means the chance of securing the estimated $26.5 billion needed to finance coal expansion is looking increasingly unlikely – unless Australia's big four banks come to the risk party.
ANZ, Commonwealth Bank, National Australia Bank and Westpac are among the world's top 15 banks by market capitalisation, and are capable of lending the large chunks of capital required to get coal expansion projects out of the planning stage.
They have all been involved in dirty coal projects in the past, however, with the divestment movement taking off, community opposition to coal ballooning, the harsh reality of coal market decline, and the increasing abandonment of Abbot point by international financiers; Australia's 'big four' banks are under pressure to also rule out reef destruction.
Top image: Greenpeace/Tom Jefferson